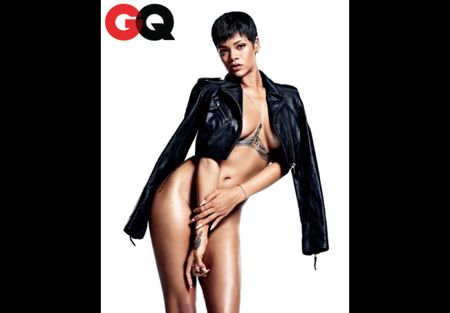 Rihanna continues to stir fans into a frenzy on the latest cover of GQ magazine which she appears topless.
Rihanna definitely is becoming bolder and more "Unapologetic" in her public image. She appears to be building a new public image for 2013 with recent events in the last few months.
In August, she told Oprah, in tears, that she will always love Chris Brown. Then, a few weeks later just after the 2012 VMA she posted a daring instagram showing the Barbatian princess sporting a new Egyptian themed tattoo right under her breasts. At the end of September, she was spotted sitting with Chris Brown at the opening of the Barclay Center In Brooklyn at a Jay-Z concert with fans wondering if this explosive couple have gotten back together.
Two weeks into October, Rihanna's new album cover for "Unapologetic" showed the singer nearly naked with strategic tribal painting. Lastly, the December issue of GQ presents the "We Found Love" popstar topless on the cover while revealing parts of her nipple in this issue (blurred out for MTV in this case.)
The Umbrella stunner is making a habit of stripping off – she has also shot a series of raunchy pictures with supermodel Kate Moss for the forthcoming issue of V magazine.