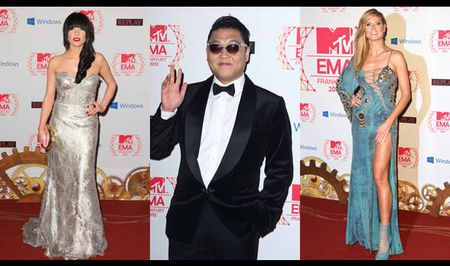 MTV Europe Music Awards 2012 hosted Heidi Klum.
Taylor Swift picks up three awards at the MTV Europe Music Awards in Frankfurt, for Best Female, Best Live and Best Look. Justin Bieber, who did not attend the ceremony, also won three awards – Best Male for the second year in a row, Best World Stage and Best Pop.
South Korean pop phenomenon Psy claimed the Best Video award for his record-breaking hit "Gangnam Style", becoming the first Korean artist to scoop a main prize at the MTV EMA Awards. He has also drawn attention by performing "Gangnam Style" together with the MTV EMA's host, Germany's supermodel Heidi Klum.
The late Whitney Houston, who passed away last February, was honored as a Global Icon and is the third artist to receive the honor after Bon Jovi and Queen.
Full list of MTV EMA 2012 winners:
Best Female: Taylor Swift
Best Male: Justin Bieber
Best New Act: One Direction
Best Song: "Call Me Maybe," Carly Rae Jepsen
Best World Stage: Justin Bieber
Best Video: "Gangnam Style," PSY
Best Rock: Linkin Park
Best Pop: Justin Bieber
Best Look: Taylor Swift
Best Alternative: Lana Del Rey
Best Hip Hop: Nicki Minaj
Best Live: Taylor Swift
Biggest Fans: One Direction
Best Push: Carly Rae Jepsen
Global Icon: Whitney Houston