The 2012 Cannes Film Festival's jury awarded the film the prestigious Palme d'Or on Sunday night.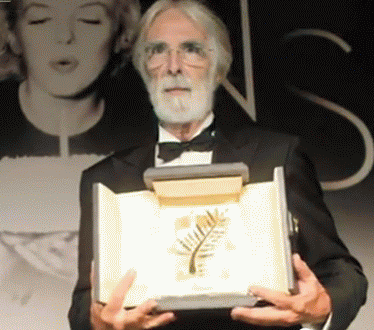 The Austrian has now won the top prize at the world's biggest cinema showcase twice,
joining a small elite of multiple winners.
"Amour" is a sweetly tragic tale of an elderly couple in France facing with the wife's worsening health.
Stars of film are two of France's most venerated actors, Emmanuelle Riva, 85 and Jean-Louis Trintignant.
The festival jury awarded the second-place Grand Prize to Matteo Garrone's Italian satire "Reality,"
while Ken Loach's whiskey-tasting comedy "The Angels' Share" won the third-place Jury Prize.
Jury led by Italian director Nanni Moretti and included actors Ewan McGregor and Diane Kruger,
director Alexander Payne and fashion designer Jean-Paul Gaultier.