Here is introduced a list of World's Most Powerful Women of 2012.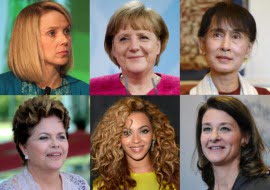 1. Angela Merkel
Angela Merkel, one of the leading figures of the European Union, is the Chancellor of Germany and party leader of the Christian Democratic Union. A physical chemist by professional background, she became Germany's first female chancellor. Merkel was born in Hamburg, West Germany, on July 17, 1954.
2. Hillary Clinton
From 2009 to 2013 Hillary Clinton was the 67th United States Secretary of State, becoming the first woman to serve in a president's cabinet. Being the wife of President Bill Clinton, she was the First Lady of the United States from 1993 to 2001, and then was a U.S. senator from 2001 to 2009. Hillary Clinton was born on October 26, 1947, in Chicago, Illinois.
3. Dilma Rousseff
Dilma Rousseff is the 36th President of Brazil since January 2011. Before that she was Chief of Staff to the President of Brazil. She became the first woman ever to hold the office and to preside over the country. Dilma Rousseff was born in Belo Horizonte, Minas Gerais, on 14 December 1947.
4. Melinda Gates
The wife of Bill Gates is an American businesswoman and philanthropist. She met her husband while working at Microsoft as a project manager. She chaired The Campaign for Children's and in 2006 she was honored for her work to improve the lives of children with the naming of the Melinda French Gates Ambulatory Care building. Melinda Gates was born on August 15, 1964, in Dallas.
5. Jill Abramson
Jill Abramson is journalist, editor and a member of the American Academy of Arts and Sciences and has taught writing at Princeton and Yale Universities. Since September 2011 she assumed the position of the executive editor of The New York Times, becoming the first woman in this role in the paper's 160-year history. Jill Abramson was born on March 19, 1954 in New York City, United States.
6. Sonia Gandhi
Sonia Gandhi is an Indian politician and the widow of former Prime Minister of India Rajiv Gandhi. Since 1998 she was elected and has served as President of the Indian National Congress party. Sonia Gandhi (Edvige Antonia Albina Maino) was born on 9 December 1946 in Lusiana, Italy.
7. Michelle Obama
Michelle Obama, the wife of the current President of the United States Barack Obama, becomes the first African-American First Lady of the United States. She is a lawyer, Chicago city administrator and community outreach worker. Michelle Obama was born on January 17, 1964 in Chicago, Illinois.
8. Christine Lagarde
Christine Lagarde is a French lawyer and politician. She serves as the Managing Director (MD) of the International Monetary Fund (IMF) since 5 July 2011 and was the first woman ever to become finance minister of a G8 economy and to head the IMF. Christine Lagarde was born on 1 January 1956 in Paris, France.
9. Janet Napolitano
Janet Napolitano is the third United States Secretary of Homeland Security, serving in the administration of President Barack Obama, since 2009. Before that she was the Democratic governor of Arizona. Janet Napolitano was born on November 29, 1957, in New York City, U.S.
10. Sheryl Sandberg
Sheryl Sandberg is an American businesswoman and the chief operating officer of Facebook since 2008, managing the main business operations. Sheryl Sandberg was born on August 28, 1969 in Washington, U.S.
11. Oprah Winfrey
Oprah Winfrey is an actress, philanthropist, publisher, and producer. She has hosted her own internationally popular talk show "The Oprah Winfrey Show" since 1986. Oprah Winfrey was born in the rural town of Kosciusko, Mississippi, on January 29, 1954.
12. Indra Nooyi
Indra Nooyi is a business executive and the current Chairman and Chief Executive Officer of PepsiCo. She also was elected as Chairwoman of the US-India Business Council. Nooyi was born 28 October 1955 in Madras, Tamil Nadu, India.
13. Irene Rosenfeld
Irene Rosenfeld is an American businesswoman and currently Chairman and CEO of Mondelez International, Inc. She was born on May 3, 1953 in Westbury, New York, U.S.
14. Lady Gaga
Lady Gaga is an American singer, record producer, dancer, songwriter, activist, fashion designer, businesswoman, actress and philanthropist. Besides her musical career she contributes in the fight against HIV and AIDS. Lady Gaga (Stefani Joanne Angelina Germanotta) was born on March 28, 1986 in Yonkers, New York.
15. Virginia Rometty
Virginia Rometty is Chairman, President and Chief Executive Officer of IBM since January 1, 2012. An American business executive became the first woman to head the company. Virginia was born in 1958, U.S.
16. Cristina Fernandez de Kirchner
Cristina Kirchner is current President of Argentina and the widow of former President Nestor Kirchner. She became the first elected female president and the first reelected woman. Cristina Fernandez de Kirchner was born on 19 February 1953 in La Plata, Argentina.
17. Ursula Burns
Ursula Burns has been the Chief Executive Officer of Xerox Corp. since July 2009 and its Chairman since May 2010. She will be Vice Chairman of the Executive Committee of The Business Council in 2013 and 2014. Ursula Burns was born on September 20, 1958, in New York, U.S.
18. Meg Whitman
Meg Whitman is the president and chief executive officer of Hewlett-Packard. Previously the successful American business executive served as CEO of eBay for 10 years. Whitman was born in Long Island, New York, in August 4, 1956.
19. Aung San Suu Kyi
Aung San Suu Kyi is an opposition leader in her home country of Myanmar and chairperson of the National League for Democracy (NLD) in Burma. She is also the winner of the 1991 Nobel Prize for Peace. Aung San Suu Kyi was born on 19 June 1945 in Rangoon.
20. Maria das Gracas Silva Foster
Maria Foster is the CEO of Brazil's state-controlled oil company Petrobras-Petroleo, becoming the first woman in the world to head a major oil-and-gas company. Maria das Gracas Foster was born on 26 August 1953, in Caratinga, Minas Gerais in southeastern Brazil.