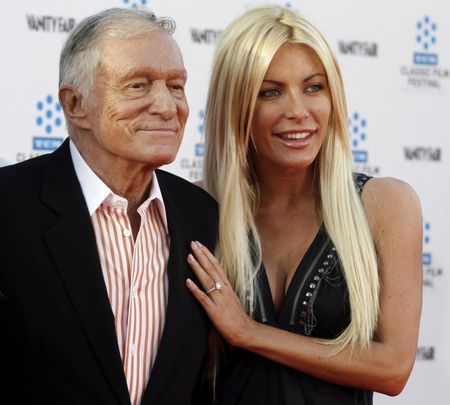 Hugh Hefner and runaway bride Crystal Harris are engaged once again.
The Playboy founder Hugh Hefner and his former fiance Crystal Harris, who confirmed their reconciliation in June this year, is engaged to marry again and reportedly will walk down the aisle at the Playboy Mansion on New Year's Eve. About a year after she ran away, Crystal moved back in with Hef. Now the wedding is back on because they've worked out their previous problems, and Crystal learned how to stand on her own two feet.
A friend brought them back together after encouraging Harris to write to Hefner how miserable she was after her decision to bail out on them. Hefner accepted Harris back at Playboy Mansion. Harris moved back into the Playboy mansion earlier this year and said, "Getting back together with Crystal Harris shouldn't be a big surprise, since I have a history of remaining close to former girlfriends."
This would be the third marriage for 86-year-old Hugh Hefner and first for the 26-year-old Harris, who was Playboy Playmate of the Month in December 2009. Their wedding is going to be intimate and, as far as the public knows, there won't be any television cameras at the Mansion.