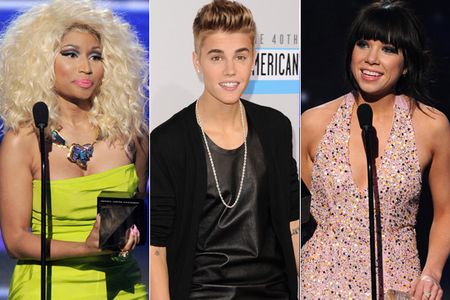 The pop singer Justin Bieber won three trophies at American Music Awards 2012.
The 2012 American Music Awards ceremony surprised none with its predictable performances and new crop of old winners.
Nicki Minaj shared the stage with 18-year-old pop singer and took home two awards. Taylor Swift won her fifth consecutive award for favorite country female artist.
Luke Bryan won favorite country male artist and Lady Antebellum favorite country group. Carly Rae Jepsen, who performed early in the night, won favorite new artist.
Non-nominees No Doubt, Ke$ha, Pink, Christina Aguilera, and PSY got some stage time as performers.
THE FULL LIST OF AMERICAN MUSIC AWARDS 2012 WINNERS
Artist of the year: Justin Bieber
New artist of the year: Carly Rae Jepsen
Pop/rock female artist: Katy Perry
Pop/rock male artist: Justin Bieber
Pop/rock band, duo or group: Maroon 5
Pop/rock album: Justin Bieber, Believe
Country female artist: Taylor Swift
Country male artist: Luke Bryan
Country band, duo or group: Lady Antebellum
Country album: Carrie Underwood, Blown Away
Rap/hip-hop artist: Nicki Minaj
Rap/hip-hop album: Nicki Minaj, Pink Friday: Roman Reloaded
Soul/R&B female artist: Beyonce
Soul/R&B male artist: Usher
Soul/R&B album: Rihanna, Talk That Talk
Alternative rock artist: Linkin Park
Adult contemporary artist: Adele
Latin artist: Shakira
Contemporary inspirational artist: tobyMac
Electronic dance music artist: David Guetta
Watch Justin Bieber performs "As Long As You Love me & Beauty And A Beat"
[youtube O8cKlzQOQWc]