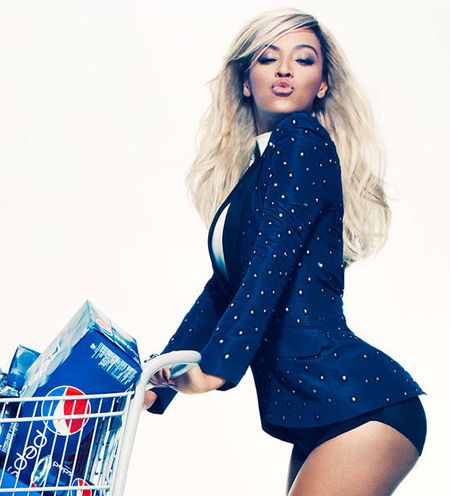 Beyonce does $50 million deal with Pepsi.
Pepsi has announced a multi-year collaboration with the songstress that even includes a limited edition Pepsi can featuring Beyonce's face. The company first hired Beyonce in 2002 after Britney Spears fell out of favor. The deal with Beyonce is the latest in Pepsi's "Live For Now" campaign that already features acts like Nicki Minaj and One Direction.
Now the pop star will work with the pop giant on a host of creative projects, including social media and live events – and even an upcoming world tour.
As part of the deal, the superstar will collaborate with designers on all advertising materials, including cans and bottles that feature her image. She'll also star in a global TV commercial campaign scheduled to launch next year.
The multiyear campaign is estimated at $50 million, the bulk of it for media placements and promotions around the world, and the remainder split roughly equally between Beyonce's fee and what Pepsi calls a creative content development fund.
The new advert will begin broadcasting in early 2013 and is timed to coincide with the release of Beyonce's next album just after she is scheduled to perform at the Super Bowl's half-time show in New Orleans which is also sponsored by Pepsi.