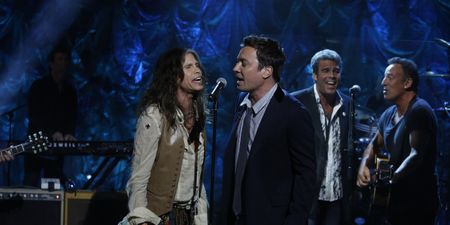 A live televised concert to benefit victims of Hurricane Sandy brought in nearly $23 million.
The American Red Cross and NBCUniversal have organized a live televised concert in support of Hurricane Sandy relief efforts. The hour-long telethon, hosted by Matt Lauer, was heavy on stars and lyrics identified with New Jersey and the New York metropolitan area, which took the brunt of this week's deadly storm.
The event was a mix of music, storm footage and calls for donations. Images of the destruction caused by Superstorm Sandy were also interspersed throughout the show, along with victims pleading for aid, reminding viewers just how immense the damage was.
The show brought together big name singers including Bruce Springsteen, Billy Joel, Steven Tyler and Mary J. Blige. The concert also had appearances from Jimmy Fallon, Tina Fey, Jon Stewart and Danny DeVito among others. New Jersey's Jon Bon Jovi gave extra meaning to "Who Says You Can't Go Home."
The show ended, as it only could, with Springsteen and the E Street Band, tearing into "Land Of Hope and Dreams."
Money collected during the concert will be donated to the American Red Cross relief efforts. The Red Cross is providing shelter, food, emotional support and other assistance to those impacted by disasters such as Hurricane Sandy.