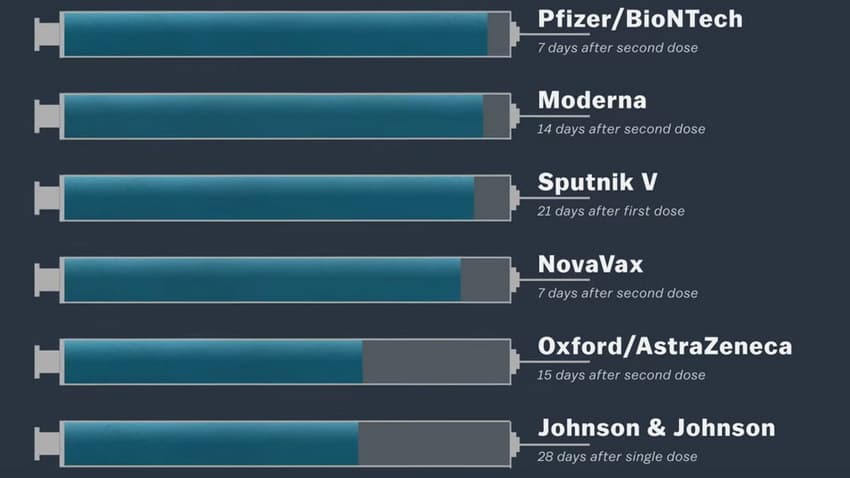 "Sputnik V" vaccine
Country: Russia
Type: Adenovirus vector
Doses: 2 doses / 3 week
Covid Vaccine Update: After the second round of testing, the vaccine approved, and the final round began in September. Sputnik V's efficiency rated at more than 95% by the developers. "Sputnik V" has developed in two forms: frozen and freeze-dried.
The medicine injected twice at an interval of three weeks. COVID-19 vaccination has begun in at least 144 countries.
Pfizer / BioNTech Vaccine
Country: USA, Germany
Type: RNA
Doses: 2 doses / 4 week
German company BioNtech in collaboration with the American pharmaceutical firm Pfizer has developed a vaccine.
The medicine demonstrated a 95% efficiency rate in the third phase of clinical trials.
The vaccine must store at a temperature lower than -70° C and is only functional for five days after defrosting.
Pfizer-BioNTech provided in two doses separated by three weeks.
United Kingdom was the first to approve Pfizer, followed by Canada, the United States, Europe, and the Middle East.
Mass vaccination began on December 14 in the United States and Canada and on December 27 in Europe.
Moderna vaccine
Country: USA
Type: RNA
Doses: 2 doses
The vaccine developed by the American pharmaceutical company Moderna was 94.5% effective in mild cases of the disease and 100 percent effective in severe cases.
The vaccine can be store for up to 30 days at 2-8° C and is provided in two doses at four-week intervals. Moderna expects to release 600 million doses this year.
US approved the use of Moderna and ordered 200 million doses, with the option to buy another 300 million. Then the vaccine received approval for use in Canada, Israel, the United Kingdom, and Switzerland.
AstraZeneca vaccine
Country: United Kingdom, Sweden
Type: Adenovirus vector
Doses: 2 doses
The vaccine, developed by AstraZeneca and the University of Oxford, has a 90% effectiveness rate. First, the medicine is injected half of the dose, and after a month – the full one.
It is stored at the same temperature as a regular refrigerator and is provided twice with an interval of 4-12 weeks.United Kingdom, India, Argentina, the Dominican Republic, El Salvador, Mexico, and Morocco are among the countries that have approved the medication.
Johnson & Johnson vaccine
Country: United States, Netherlands
Type: Adenovirus vector
Doses: 1 doses
On March 11, the European Union approved the Janssen vaccine, developed by the American corporation Johnson & Johnson.
The medicine showed a 67% efficiency rate in clinical trials involving 44 thousand participants from the United States, South Africa, and Latin America. The most significant benefit is that it comes in a single dose.
Sinovac Biotech vaccine
Country: China
Type: Adenovirus vector
Doses: 2 doses
The inactivated vaccine CoronaVac, developed by the Chinese Sinovac Biotech, is stored in the refrigerator at plus 2-8° C.
Sinovac plans to manufacture 300 million doses per year, according to the company.
Two doses are needed for immunization. The information on the Sinovac vaccine's efficacy is unclear. Turkey, Singapore, Malaysia, the Philippines, Brazil, Ukraine have purchased the vaccine.