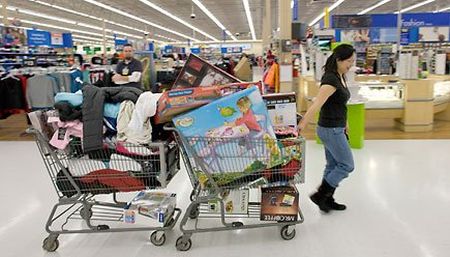 Walmart Black Friday 2012 will start at 8 p.m. on Thanksgiving.
This year, Walmart will open its doors for Black Friday shopping at 8 p.m. on Thanksgiving, a full 2 hours earlier than last year. The nation's biggest retailer have just released their ads for Black Friday 2012. It is one of the biggest events in November besides the actual Black Friday sales.
Walmart is a perennial Black Friday sales leader, with enough clout to influence how other retailers capitalize on the massive earning potential of the holiday shopping season.
Shoppers this holiday season can expect deep discounts on popular video games, consoles, smart phones, desktops, PCs, tablets and other electronics.
The store's Black Friday Sale webpage offers the opportunity for shoppers to sing up for alerts for both the biggest shopping day of the year and Cyber Monday. This year, the retailer is hosting several in-store events to get the holiday interesting.
Sears (SHLD) has also announced an 8 p.m. Thursday opening in its circular. Some other major chains have yet to announce their Black Friday plans, so some of Walmart's other competitors could announce similar hours in the name of keeping up with the biggest retailer.
The United States observes Thanksgiving on November 22 this year.