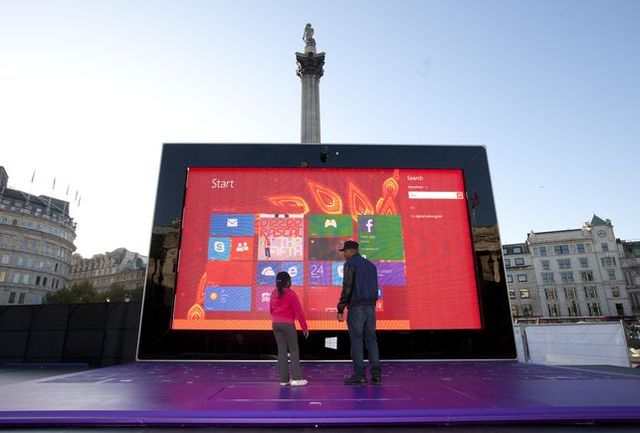 Microsoft unveiled 383- inch Surface tablet in London's Trafalgar Square.
A copy of the company's tablet is situated close to Nelson's Column, in the center of London. The installation of the construction took about 12 hours. The width of the device is 8.2 meters, height – 5.2 meters, completed with a huge fully functional Type Cover 2 keyboard. Kids can jump on the giant keyboard and play a spelling game by stepping on the keys. It's all powered by a Surface Pro 2, connected via USB and Micro-HDMI. Local rapper Dizzee Rascal is recruited to entertain the crowd and perform stage shows.
Microsoft unveiled the actual Surface 2 and Surface Pro 2 tablets of a new generation last month and began shipping earlier this week. Both tablets feature 10.6-inch 1080p displays. The tablet comes in two variations, 32 GB or 64 GB, packs full Windows 8.1, equipped with a 1.6GHz Intel Core i5 processor as well as a 10.6-inch ClearType Full HD display and support for microSD, USB 3.0, and HD video out.
Thousands of tourists and workers pass through Trafalgar Square each day and a place for "giant Surface" was chosen ideal for this marketing ploy. Microsoft has also been painting ads onto buildings in various US cities, and is continuing its massive TV ad campaign.