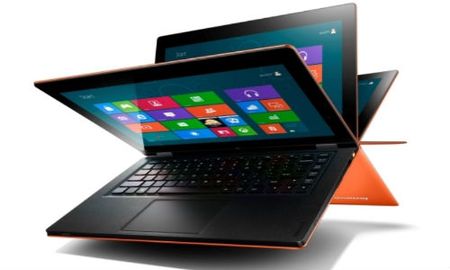 Lenovo Yoga 13 was first announced at CES 2012, with it being one of the first kind of hybrid laptop/tablets announced running Windows 8.
The Lenovo IdeaPad Yoga 13 is one of the most eye-catching touchscreen Windows 8 hybrid Ultrabooks at launch. It has quite a simple design, and does look like the usual laptop.
The Yoga's processor provides more than enough power for ordinary tasks such as word processing, web browsing and streaming video. The device comes with a 1.7GHz Intel Core i5 processor, 4GB of RAM, 500GB 5,400rpm hard drive, 13.3 inch screen, 0.67 inch thickness, Intel HD 4000 graphics and Windows 8 as its operating system.
Available in two sizes of 11in and 13in, both models' high-definition IPS touchscreen displays are built on a hinge that allows them to tilt 360 degrees, folding it from a laptop to a tablet in one motion.
The Yoga 13 has four modes of operation: laptop, tablet, tent and stand so users can choose the most comfortable way for them to edit files, compose documents, blog, listen to music, look at photos, browse websites, video chat, and share the screen with other users.
The Yoga 13 starts at only $1,000, which is a very nice price for what feels like a very premium product. It's one of the cheapest Windows 8 tablets.