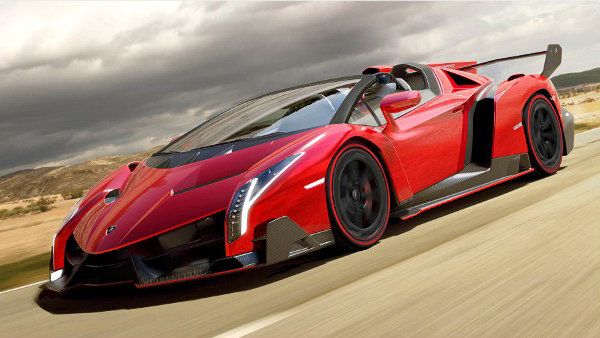 Lamborghini has unveiled  a new Veneno coupe during the annual Geneva Motor Show 2013.
Lamborghini Veneno Roadster continues the Italian automaker's recent line of extremely rare, and hugely expensive, limited-edition models. The supercar company is set to build just nine convertible versions of its already exclusive Veneno hypercar and all of them are without roof, not even a fabric top. The automaker unveiled this outrageously expensive car on the base of the Lamborghini Aventador Roadster in celebration of the brand's 50th anniversary.
"There is no roof, just a strong rollover bar for optimum safety," said Lamborghini in a statement, "and the front end works as a large aerodynamic wing."
Based on the Aventador, the Roadster is a two-seater and comes with a 740-horsepower, 6.5-liter V-12 engine, mated to a seven-speed "IRS" transmission. It boasts a claimed sprint from 0-100km/h in just 2.9 seconds and tops out speed of 355km/h.
It weighs less than some small cars, just 1490 kilograms. The exterior panel is made of lightweight carbon fiber-reinforced plastic and design is absolutely bristling with air intakes and enormous wings and spoilers. The red color "Rosso Veneno" was specially developed for the car and won't be carried over to other models in the range.
The price of the luxury car may seem a little outrageous, but it costs approximately $4.5 million before taxes.