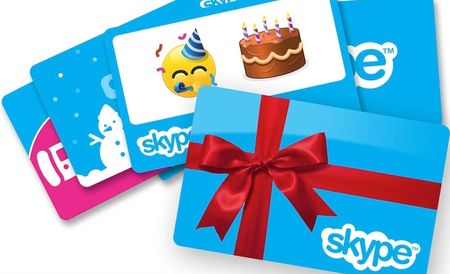 Microsoft-owned Skype is expanding its Gift Cards to get more people using Skype Credits and paid services on the site.
Internet calling service has put out gift cards, both virtual and physical, worth $10 up for sale already online and in stores. The gift cards can be used to make Skype calls to mobile phones or landlines or to send text messages, either inside or outside the U.S.
In a move to get more people to use the credit service, Skype has expanded its gift card facility to cover 44 countries and are already up on the site to purchase.
Though many features of Skype are free, such as one-to-one video calling and voice-over-internet calling, premium features such as video conferencing and calls to landlines or mobiles are charged.
The physical cards are available with retailers in the US, the UK, and Mexico with more countries to be added to the list soon. The move to begin offering Skype Gift Cards in physical stores was first announced earlier this month. In the U.S. retailers include Target, OfficeMax and Microsoft retail stores. In the UK retailers include Walmart-owned Asda, Currys, PC World, WHSmiths and the supermarket Sainsburys.