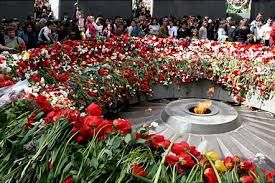 Today the Christian world is celebrating the Holy Easter, but for Armenians this is also a day of mourning.
It symbolizes one of the tragic pages of the nation's history – the Armenian Genocide – which claimed the lives of numerous Armenians in the Ottoman Empire in the years of World War I. Every year on April 24 hundreds and thousands of Armenians from capital city and the regions visit Armenian Genocide Memorial in Yerevan's Tsitsernakaberd Park to pay tribute to the innocent victims of the big tragedy. This year the Armenians commemorate the 96th anniversary of the 20th century's first mass atrocity against the mankind.
Memco Inc. presented Armenian Genocide Museum – Institute Virtual Tour. Visit and place flowers.