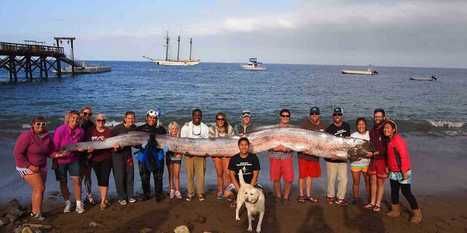 18 feet long oarfish was found by a marine science instructor on the beaches of Catalina Island.
Catalina Island Marine Institute instructor Jasmine Santana was snorkeling when she find out oarfish lying dead beneath the water. The animal, the largest of all bony fish, is 18 feet long, but they they can grow to over 50 feet. After checking to make sure it was truly dead, she and some colleagues managed to bring it to the surface and drag it to shore.
The marine institute sent tissue samples to be studied by biologists at University of California in Santa Barbara, and is awaiting a final determination on the species.
A mythical sea serpent are rarely seen  and remain largely unstudied because they seem to spend most of their time hundreds of feet below the surface. Because of their great size they could be one of the animals described as sea monsters by early sailors to whom these creatures have been very alarming.
A spokesman for Guided Discoveries, the educational nonprofit that operates programs on Catalina Island, said that the fish will be buried in the sand until it decomposed. Then bones would then be reconstructed, cleaned and mounted for visitors.